Exploring and understanding
We often hear people talk about how their pain or symptoms are better in the sunshine or worse before a storm. Sometimes we can get good ease when we get up and moving, after a hot shower, but for others, it is this moving in gravity that can trigger the discomfort. So often the pattern can change too, just to make things more confusing!
So how do we begin to unpack the mysteries of the body and our symptoms when they change, move or evolve so quickly?
As practitioners, we are listening to your insights, observing your movement patterns and collating information about your lifestyle so that we can provide that all-important perspective. By bringing understanding into the treatment, we support your choices around how you wish to move forward. You could say that we see our role as facilitators, as catalysts and as educators where neccesary, with you as our focus and our favourite subject!
Sound good? Let's get started....
Sue and Paul
"In life, as in music...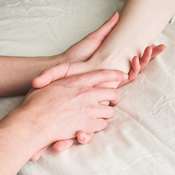 ...the rests are as important as the notes."
APPOINTMENTS
We welcome you to call us to make an appointment - please do leave us your full name and number as we may be consulting at the time of your enquiry. We currently offer appointments Monday-Friday and will endeaver to return your calls/messages at our earliest opportunity during working hours.
We are happy to chat to you if you are unsure which of our treatments might suit you best. Give Sue a call for advice on:
077 468 900 48
When you arrive for your appointment, to access the Edinburgh Palette building, please enter the code you were given when you booked your appointment. Please make your way up to the natural health clinic in Studio 231, in the West Wing, on the 2nd floor, and take a seat in our lovely waiting room. Your practitioner will find you there at your allocated appointment time.
Check out our Contact Us page for more help on finding us.
We have updated our Data Policy and have added this to our website for you to read (by clicking on 'your data' link above) at your leisure!